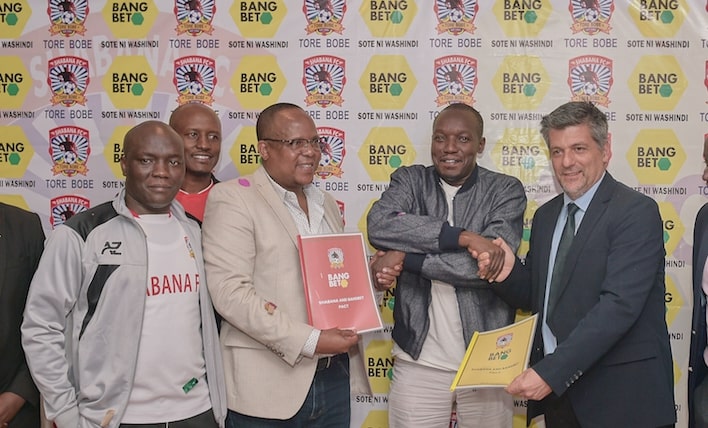 Shabana FC, winners of the National Super League, has signed a Ksh 20 million sponsorship agreement with betting company Bangbet to serve as their official sponsor for the 2023–2024 FKF Premier League season. Shabana FC Bangbet
According to the agreement, Bangbet will supply the Kisii-based team with both playing and practice uniforms for the full campaign.

Sammy Okoth, Head coach Shabana, is optimistic that the Sh20 million sponsorship agreement will help the team's prospects as they aim to compete successfully in the Kenyan Premier League.
The big question was how to ensure we get enough money to sustain our operations in topflight football. We are all happy with the arrival of our new shirt sponsor, whose presence will help sort out some crucial issues that threatened to stagnate the club.

Players can only be signed when there is a salary to pay them. Our urge to bolster our squad was dampened by the absence of a reliable shirt sponsor and we are glad we have secured one already.

Sammy Okoth, Head coach Shabana
Jared Nevaton, the chairman of Shabana, claimed that the Bangbet purchase was the result of a deliberate and sincere approach.
It has taken us a long time to convince Bangbet to invest in our team and I am glad that we have finally signed a deal. As a team, we shall not let Bangbet down.

Jared Nevaton
Read Also: Lamontville Golden Arrows names 10bet their principal partner
Chief Executive Officer of Bangbet, Leonardo Varese, promised to go far beyond to assist the team's Premier League objectives.
The sponsorship of Sh20 million for Shabana FC is one of our intentional efforts to support communities in Kenya. We shall also offer the club footballs and kits for all the players as well as other essentials to allow the players to focus on their business on the pitch.

A tantalizing Sh10 million bonus awaits the team should they win the 2023/2024 FKF Premier League title.

Leonardo Varese
The club's patron, Kisii Governor Simba Arati, described the collaboration as a symbiotic one that promised Shabana a revitalized sporting career.
After Gor Mahia and AFC Leopards, Shabana will be the third community club competing in the 2023–2024 FKF Premier League. They are scheduled to host Muranga Seal in Nairobi on this month's 27th in their first game before traveling to Talanta FC and hosting Police FC in the second and third rounds, respectively.
---
Check out the latest news here and you are welcome to join our super exclusive iGaming Afrika Telegram Forum for all the latest and breaking news in the African Gambling industry. We would also like to hear from you. Write to editor@igamingafrika.com Shabana FC Bangbet