A young Nigerian man who goes by the name Ekiti Pikin won KSh 6.9 million after wagering KSh 9,200 on odds of over 600.
Ekiti thanked the person who revealed the booking code he used by posting a screenshot of his winning slip.
Many people who commented on his post praised him, and some of them were impressed by how daring he was to stake so much on a whim.
Ekiti Pikin (Mayor of Ekiti), a well-known Nigerian gambler, has Nigerians celebrating his good fortune when he won N37.4 million (KSh 6.9 million) from a single betting game.
He had staked on almost 600 odds on the game, according to his slip. The well-known punter also tagged the user whose booking code he had redeemed.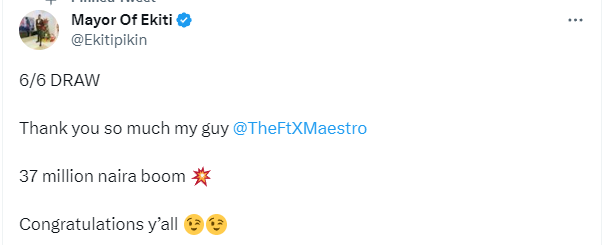 Ekiti Pikin also complimented those of his supporters who played along with him on their victories. His comment area was flooded with individuals praising him.
Some of the top comments on his are featured below:
@OlaseniFeyisayo said:
Congratulations and more wins.
@_AsiwajuLerry said:
Congratulations brother, it's winning szn
@OgDon_Official said:
Omo… You dey Stake Abeg, Imagine Game way no be you Predict. You Staked #50k on 6 Draws… I off cap for You Abeg…
From the screenshot, it became evident that the bet had been placed on the popular Nigerian betting site Sportybet.
---
Check out the latest news here and you are welcome to join our super exclusive iGaming Afrika Telegram Forum for all the latest and breaking news in the African Gambling industry. We would also like to hear from you, Message us on Telegram here or write to editor@igamingafrika.com