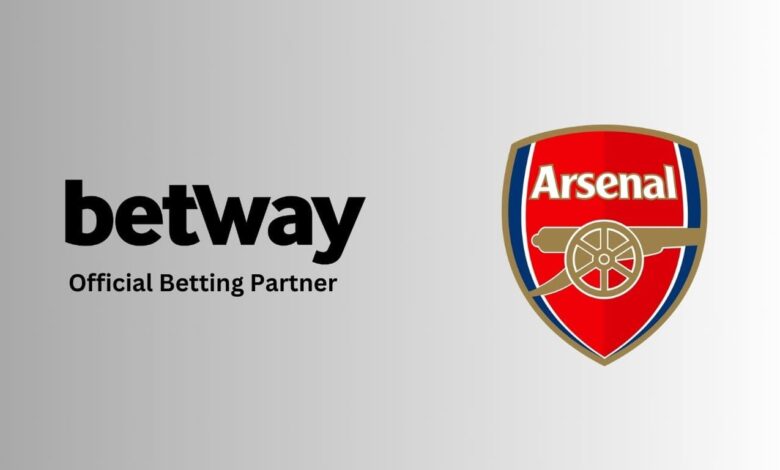 Leading international online betting and gaming company Betway inked a contract to become the official global betting partner of English Premier League club, Arsenal men's team. Betway Official Partner Arsenal
The multi-year contract is the newest addition to the Super Group-owned brand's football portfolio, which already includes agreements with teams in La Liga and the Bundesliga as well as partnerships with West Ham and Brighton in the English Premier League as Principal Partners and Official Global Partners, respectively.

The new partnership will improve the fan experience by developing and distributing worldwide activations and exclusive content across all social media channels.
All home games in the Premier League, FA Cup, and Carabao Cup will be played in the 60,000-seat Emirates Stadium, where Betway's logo will be displayed on advertising boards. This will provide Arsenal fans visibility across the globe..
All club members and employees will also get comprehensive Code of Conduct and Responsible Gaming training from Betway, which explains rules and educates participants on the negative effects of gambling as well as the resources and assistance that are available. Along with working with the FA and PFA to support players in this area, Arsenal also does this.
Having built one of the most exciting and enviable global sport sponsorship portfolios of any industry, I am absolutely thrilled to announce our new partnership as Official Global Betting Partner of English Premier League side, Arsenal.

We're excited to work together to deliver great content and experiences for Arsenal's huge global supporter base and Betway will also be working with the club to ensure the partnership follows industry marketing protocols and important responsible gambling practices.

We have strong connections to North London with an office based there, so it will be great to see the Betway brand around the Emirates Stadium.

We look forward to supporting them on their journey both domestically and in Europe in this season and beyond."

said Anthony Werkman, CEO of Betway Group
Read Also: Sustainability in iGaming: Environmentally Conscious Practices in African Casinos
We are pleased to announce Betway as our Official Global Betting Partner. It is the latest of a number of global brands to join our family of partners in recent weeks, a further sign of our commercial strength as a club. We are excited to work with Betway to bring more experiences for our supporters across the world and promote the importance of responsible gambling.

said Juliet Slot, Chief Commercial Officer at Arsenal
Beyond football, Betway has amassed an impressive roster of sponsorships across a variety of sports, including tennis, cricket, horse racing, the NBA, and the NHL.
Source: Arsenal.com Betway Official Partner Arsenal