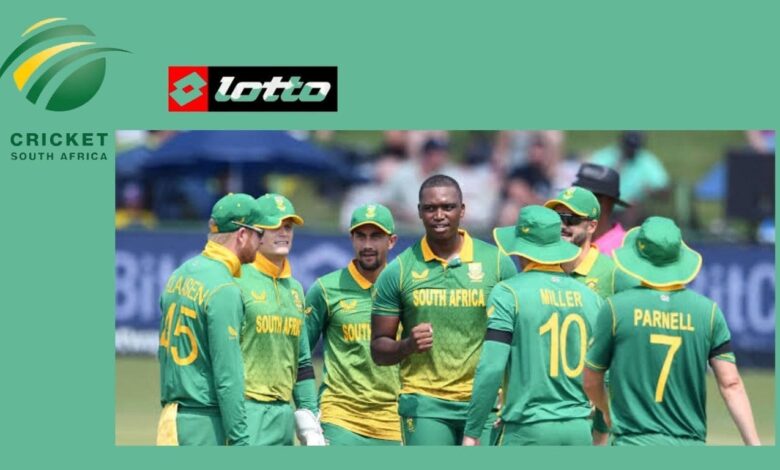 Lotto Sport and Cricket South Africa have announced a partnership that will see Lotto Sport become the 'Official Technical Partner' for all the national teams. Lotto Sport Cricket South Africa
As part of the deal, Lotto Sport has been given exclusive rights for the manufacturing of the playing and training kits for the men's, women's teams together with development properties.

The agreement also covers the manufacturing of merchandise and uniforms for CSA personnel.When the Proteas Men's team plays Australia in the domestic one-day series, fans will get their first glimpse of the new uniform.
The design, according to a CSA statement, "celebrates individuality but appreciates a shared passion and unity, and has returned to the classic Proteas green. With a new targeted concept where style and performance are combined, the kit has an ideal mix of comfort and technicality with ergonomic fit, light and breathable mobility. Reflective elements in strategic areas allow maximum visibility in low light conditions."
Read Also: Pragmatic Play's Drops and Wins Promotion
CSA is pleased to partner with Lotto Sport South Africa, a brand that has proven to be passionate about sport. Their designer kits will position our various properties as progressive, thus bringing traction to the game. This augurs well with CSA's vision to make cricket the number one sport of choice in South Africa, a commitment to be enhanced through our association with this global company. I welcome Lotto Sport South Africa to the cricket family and look forward to a mutually-beneficial partnership.

said CSA Chief Executive Officer Pholetsi Moseki
The kit will be available to purchase at leading sports retailers and online retailers throughout South Africa.
This is a historic moment for Lotto Sport internationally. Being a traditionally football and tennis brand, what better way to spearhead a footprint into global cricket than with the sponsorship of the Proteas Men and Women's teams. For the past five years, we at Lotto Sport have been working tirelessly to provide South African consumers with fine Italian quality sportswear and lifestyle products that are functional and stylish. For us, this partnership follows that ethos. As we continue to put comfort, product excellence and innovation at the forefront of our offering, we now partner with Cricket South Africa, which is an honour for us.

said Lotto Sport South Africa CEO Yusuf Dockrat. Lotto Sport Cricket South Africa