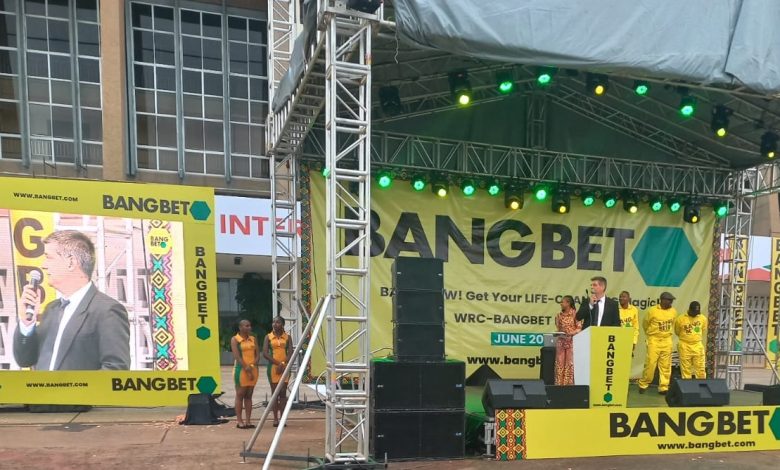 The 2023 World Rally Championships (WRC) Safari Rally in Naivasha is just a few days away, and local drivers are sharpening up their preparations.
The good news is that Drivers John Ngugi and Josiah Kariuki have signed a sponsorship deal with Bangbet, a popular sports betting company in Kenya. This announcement was made in a colorful ceremony that took place at the Moi International Sports Centre Stadium, Kasarani.

The two drivers Josiah Kariuki and John Ngugi are now under less strain to get ready for the WRC Safari Rally that is to take place from the 22nd to the 25th June 2023.
Taking part in Safari Rally is very expensive, and it means a lot that Bangbet has come on board to sponsor us. I don't think I could have done a lot by myself.

Kariuki said
Bangbet will pay for all of his preparations, including branding and equipment, as part of the sponsorship agreement.
If we didn't get the sponsorship, we could have competed in the rally but it could have been harder. Now things have been made easier for us. I can just go chill down in Naivasha without worrying about who is paying for this, and that.

Kariuki added
Maina is thrilled about the possibility of competing in the WRC Safari Rally this year under the current juicy prevailing conditions.
We had no hope of getting a sponsor to participate in the WRC Safari Rally until Bangbet came on board.

Maina said
Kariuki has participated in the WRC for the past six years, most recently finishing seventh in his category last year while expressing optimism for a better showing this time around.
We hope to do better, we have changed the plan. We have improved to a better car.

he added
Kariuki switched from driving a Mitsubishi Lancer Evo 9 last year to a Subaru Impreza N10 Prodrive this year.
This is a superior car, its performance is equivalent to an Evo 10 and is on prodrive which means it has been manufactured as a rally car.

he explained.
Kariuki is optimistic that they will have good results this time around. "This car is a Prodrive and I haven't driven a Prodrive before. I started driving it last week so I need to get a better feel of it but so far it is okay. I am learning," he said.
Read Also: EPL announces 2023-24 fixtures; Chelsea to Start against Liverpool
"We will go to have fun, that is the best approach. If you prepare yourself, you may overthink of what might happen. If we finish well, that will be fine," he said.
The news also attracted different reactions from the Kenyan general public.
"Good to see Bangbet supporting our drivers. We need to get out in big numbers and support our drivers this coming next week. Naivasha we are coming"

wrote Mr. Okerosi on Twitter
---
Check out the latest news here and you are welcome to join our super exclusive iGaming Afrika Telegram Group for all the latest and breaking news in the African Gambling industry. We would also like to hear from you, Message us on Telegram here or write to editor@igamingafrika.com