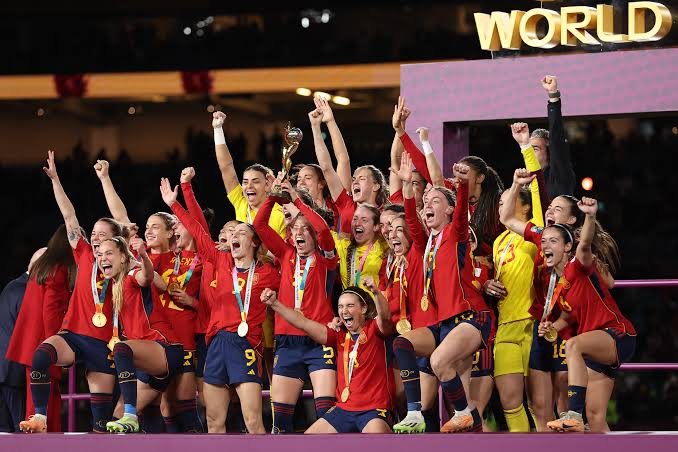 Spain women national team have been crowned the new Women World Cup Champions after beating England in the finals held at Olympic Stadium Sydney.
The tournament which was co-hosted by Australia and New Zealand did break attendance and TV records and it raised interest in growth for the women's games.

Credits to the tournament, it's been phenomenal, the crowds that we've generated and the support that all the teams have and it's been surreal, it's been so visible.

In terms of women's games, I definitely think we are at our peak.

Millie Bright England Captain
There was a festival atmosphere before the final showdown in Sydney as thousands of fans flocked around the city with troupes of drummers and stilt walkers.
Until the start of the game, England were the favorites, though Spain did start the games at a good foot and eventually scored through their captain Carmona.
Despite tension in the closing minutes of the game, Spain did hold their lead until the final whistle.
The game was pulsating, both teams did create clear cut chances and even Spain did fail to score penalty awarded to them in the second half.
Spain team had internal disputes before the tournament with the Spanish Football Federation which led some of their best players missing but that did not deter them from performing their best.
We suffered, it was a difficult match but we always thought we were going to make it.

Olga Carmona Captain Spain
England and Spain were making their first appearance in the Women Word Cup final but Spain with their attractive attacking football did manage to defeat their counterparts.
I can't imagine how much excitement there will be in Spain. We are going to celebrate here and we don't know when it will end.

Jorge Vilda Spain Coach
Read Also: Playa Bets signs Stefan Terblanche ahead of the Rugby World Cup
England were aiming to add World Cup in their trophy cabinet after winning last European Championship edition.
I think everyone has watched an incredible game, a very open game with both teams wanting to play football. Two very different halves for us, the first half we really struggled to have pressure on the ball, so we changed in the second back to 4-3-3 which gave us momentum.

I thought we got momentum, then the penalty and then the injury with Alex Greenwood, and we lost it. Spain were a little bit better than us today and they had a great tournament. Congratulations to the Spain Team.

Sarina Weigman Head Coach England
Major Highlights in the Tournament
Colombia first South American team to reach knockout stages after Brazil
Australia Women Team first to reach World Cup semis in both men and women teams
Australia vs England semifinal match had the most views in Australian TV than any other event.
Australia and France had longest penalty shootout in a World Cup match.
Spain Aitana Bonmati received the Golden Ball award as the best player in the tournament
England goalkeeper Mary Earps received Golden Glove as the best goalkeeper
Spain Palma Paralluelo named young player of the tournament.
---
Check out the latest news here and you are welcome to join our super exclusive iGaming Afrika Telegram Forum for all the latest and breaking news in the African Gambling industry. We would also like to hear from you, Message us on Telegram here or write to editor@igamingafrika.com