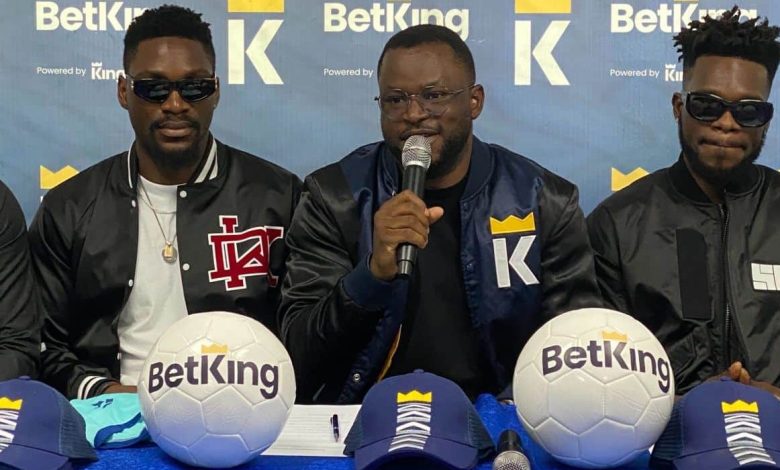 BetKing, a leading provider of digital entertainment and sports betting, recently announced the addition of two well-known brand influencers to its team in Nigeria. These are Broda Shaggi and Tobi Bakre. BetKing Shaggi Bakre
This was announced on Monday, May 29, 2023, at a ceremony at its Betking office in Ikoyi, Lagos, Nigeria.

Tobi Bakre and Broda Shaggi will take part in a number of exciting projects as brand influencers aimed at appealing to BetKing's audience. Additionally, they will play a significant role in the brand's enticing marketing campaigns, exciting activations, and customer engagement on numerous social media platforms. By appointing these influencers, BetKing hopes to increase its visibility throughout Nigeria, cultivate lasting relationships with current users, and draw in new ones by capitalizing on popular interests like comedy and movies.
Gossy Ukanwoke, the managing director of KingMakers, did speak at this event and was incredibly enthusiastic about this cooperation and how it would affect the brand's ties to its target populations.
We are thrilled to welcome Tobi Bakre and Brodda Shaggi to the KingMakers and BetKing family. Both men are incredibly talented, and we believe they embody the spirit of the BetKing brand; a spirit of fun, winning, and excitement. As we expand our portfolio beyond sports to include more iGaming offerings, we are confident that their involvement with BetKing will help us reach new audiences and expand our reach across Nigeria.

Gossy Ukanwoke, the managing director of KingMakers
Through this partnership, we intend to connect more authentically with our existing users and potential new customers, by leveraging other passion points beyond sports. We have carefully selected these brand influencers to work alongside our brand ambassador JayJay Okocha. It is important to note that JayJay has been and remains the face of the BetKing brand."

Adim Isiakpona Chief Operating Officer of BetKing Nigeria
Broda Shaggi is a renowned comedian and actor whose humorous performances on various social media platforms have gained him a solid base of supporters and media exposure among the general public. Tobi Bakre, on the other hand, is a powerful movie star who has appeared in many of Nollywood's highest-grossing movies. Both are excellent prospects to represent the BetKing brand because they each possess special talents and have a strong affinity for the brand's target audience. BetKing Shaggi Bakre