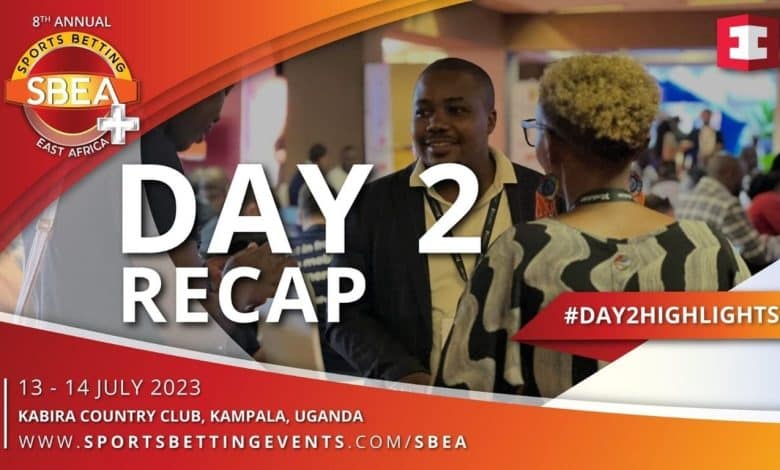 14 July 2023: Day Two of the 8th Annual Edition of the Sports Betting East Africa 2023 Summit brought together a high-spirited gathering of participants once again. The air was filled with excitement as attendees eagerly anticipated the golden business prospects and crucial insights that were to come. With a focus on the thriving sports betting scene in East Africa, Day Two promised to delve deeper into the trends and opportunities within the industry. SBEA+ 2023 Summit
Chairperson, Thomas Buckley Opar Owuor, commanded the stage once again, delivering impactful opening remarks that set the tone for an engaging day of discussions at SBEA+ 2023. Wendall Kaba, Senior Gaming Technology Advisor from Gaming Laboratories International, kicked off Day Two and addressed the importance of regulation and certification from a recognized laboratory. Kaba expertly expressed the significance of regulation and certification in the industry.
Simon Pepper, Chief Product Officer of Tola Mobile Ltd, delivered an insightful solo presentation titled, "Mobile Money integration across Sub-Saharan Africa, the opportunity and benefits of a single API for all." Pepper discussed the advantages and opportunities of a unified API for mobile money integration in the region.
The day continued with a highly anticipated panel discussion, on the newly implemented tax payouts in Kenya. Moderated by Najib Balinda, Chief Business Development Officer of Genius Gaming Consult. Gaming professionals Alessandro Pizzolotto, Balton Omwodo, Toddy Thairu and Emily Asava took on the challenge of navigating the topic. Participants in the audience were eager to present their questions to the panel of experts. SBEA+ 2023 Summit
"Bring the operators together, we form an operation, then we can have a uniform voice and maybe also combat the negativity that is currently affecting the industry."
Najib Balinda, Chief Business Development Officer, Genius Gaming Consult
"Associations depend on countries, and countries that are able to do that, it's very good because it helps them in negotiating with the board. That makes it a bit hard for Kenyan operators to convince the board, as there is nobody that is behind them."
Emily Asava, Sales Manager, TVBET
An exciting round-table discussion then took place, where experts in the Esports industry explored ways to capitalise on the increasing popularity of the emerging gaming sector in East Africa. Attendees were given both a local and global perspective as Thomas Buckley Opar Owuor, Duncan Ndegwa and Gregg Rathbone shared their insights.
"If we can localise it [Esports], if we are able to package this in a way that the local people out there can feel the touch of it, that is another way we can leverage Esports."
– Duncan Ndegwa, CEO, Ultrabet
"If you have a betting company in a country in East Africa, these big [Esports] events work really well, like big events in Korea for example. They could work in East Africa, but you need to go away from the betting element initially."
– Gregg Rathbone, Head of Commercial Development, LatroBet
After a well-deserved networking lunch break, the event resumed with a panel discussion centred around cryptocurrency. Frank Deya, Director Africa of Coin Gaming Network (CGN.co), served as the moderator whilst experts on digital currencies debated whether cryptocurrency is a trend or the payment method of the future within the gaming industry. Thomas Buckley Opar Owuor and Tumaini Maligana sat alongside Deya and provided their 'hot takes' on the subject matter.
Next up on stage, Emily Asava, Sales Manager at TVBET,guided an important topic discussion,focusing on combating the adverse effects of gambling in East Africa. Passionate about player protection, John Kamau Kungu, Oyindamola Michaels, Joshua Araali Nyakairu, Duncan Ndegwa and Toddy Thairu addressed ways in which the industry can support users and their mental well being.
The final panel discussion of Day Two called upon moderator, Brian Ondieki from Tabro Solutions Ltd. Along with fellow speakers, they explored the exciting prospects of mobile gaming and why apps are the future of the global iGaming industry. Geoffrey Muindi and Oyindamola Michaels joined him on stage and offered valuable perspectives on the evolving landscape and provided a glimpse into what lies ahead for the industry.
SBEA+ 2023 came to its final moments as Thomas Buckley Opar Owuor expressed sincere thanks to speakers and attendees alike, encouraging all to leverage the wealth of knowledge the summit presented over the course of two days. The prestigious summit was declared a success, but don't take our word for it.
Hear From SBEA+ 2023 Attendees:
"It's evident that this conference is a hub of collaboration and forward-thinking, with participants from different backgrounds coming together to shape the future of the industry."
Moses Duncan Kanyerezi, Senior Marketing Manager, Betwinner
"We had a blast at SBEA+ Summit! The panel discussion on "How will the new taxes on payouts in Kenya affect the iGaming industry in East Africa and neighbouring countries" was an insightful session packed with valuable discussions."
Mark Your Calendars for SBEA+ 2024!
With each passing year, the summit continues to be a must-attend event for industry professionals, offering all who attend the chance to connect, learn, and thrive in the sports betting landscape. The 9th Annual Edition of Sports Betting East Africa 2024 Summit will be no different. Scheduled to take place from 1 – 2 July 2024, the event is set to welcome back both familiar and new faces to the capital city of Uganda, Kampala. Save the date, and join us at the forefront of the ever-growing sports betting industry in East Africa.
---
Contact Eventus International's Marketing Director, Lou-Mari Burnett, to grow your business in Asia, Europe, Africa, North America, and beyond with our sponsorship and exhibition packages for the listed events.
Lou-Mari Burnett
Marketing Director
Eventus International
Email: loumari@eventus-international.com
Phone: +27829075850
Eventus International has been in the business of connecting industries for over a decade. With a proven combination of networking, industry insight, and knowledge sharing each event brings an industry closer together and closer to achieving a collective goal.
We take pride in using our platforms to offer bespoke sponsorship and exhibition opportunities that can easily position a brand to a targeted audience of professionals, and deliver a high ROI to companies looking to enter a market and/ or strengthen their brand presence.
We believe in quality over quantity and set out to gather the "right" audience for companies to "shake the correct hands". By focusing on connecting a C-Level audience, all attendees can network with like-minded professionals, growing their businesses and international relationships.
The high standards that we set for ourselves are responsible for the success of events such as the SPiCE India, Gaming Event Francophone Africa, BiG Africa Summit, Online Casino Summit Italia, iGaming Germany, All American Sports Betting Summit, Sports Betting East Africa+, SPiCE Sri Lanka, iGaming Crossroads Summit, Sports Betting West Africa+, SPiCE Philippines, Gaming & Affiliate Marketing Event, Scandinavian Gaming Show, SPiCE Bangladesh, International Lottery Play Summit, London iGaming Legal, Regulatory and Compliance Forum
---
editor@igamingafrika.com
Subscribe to our channel on Telegram here for timely live updates on all happenings in the iGaming space in Africa. You may also join our group on Telegram here and grow your networks by interacting with all players in the iGaming sector in Africa SBEA+ 2023 Summit
---