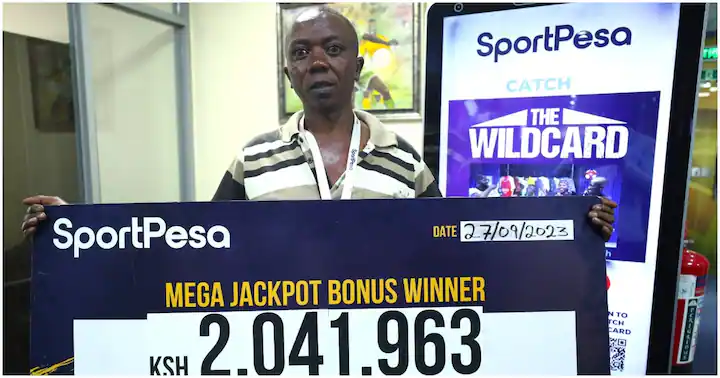 Despite living on planet Earth for 40 years and working hard to make ends meet, Kariuki Simon never had a chance to accumulate more than KSh 1 million of savings at any given time. Nairobi Businessman SportPesa Jackpot 2m
His luck changed when he accurately forecasted the results of 15 matches in the SportPesa Mega Jackpot, entitling him to a KSh 2,041,963 bonus.

The businessman spoke to TUKO and explained that the recent impressive victory came at the perfect time. He went on to say that the triumph would significantly improve his financial situation, as it had suffered greatly beforehand.
It came as a double having won 2 million. l honestly cannot believe it. It feels like a dream come true and indeed this win has come at the perfect time.

Kariuki said.
Kariuki was within reach of clinching an incredible KSh 323,817,040, the current Mega Jackpot amount, which would have made him the largest jackpot victor in Kenya. However, he fell short of the top prize by making incorrect predictions for only two games – Werder Bremen vs. FC Cologne and Airdrieonians FC vs. Raith Rovers FC.
He placed a bet on Cologne for the initial game, but the home team emerged victorious with a score of 2-1. In the ensuing match that he had anticipated to end in a deadlock, the home team won 1-0.
Despite not ceasing his betting, he sustains a hopeful attitude of one day achieving a fortune exceeding hundreds of millions. Nairobi Businessman SportPesa Jackpot 2m
The Mega Jackpot will not get to the 330 million mark because I am going to win it.

he said with certainty.
The fortunate man made his bet on September 22, which happened to be a Friday, before proceeding with his routine without any recollection of the incident.
He was notified via a text message on Monday morning that he had become an immediate millionaire. Kariuki expressed gratitude to God and SportPesa for his win, recognizing that it is an unforgettable moment of his life.
Read Also: Sporty Group Takes Part in Manchester City Partners Forum at the Etihad Stadium
The near-miss has pushed the progressive jackpot to an astounding KSh 325,118,261. The win has undoubtedly transformed Kariuki's financial status, permanently altering his future.
Following TUKO's recent coverage of Cornelius Samoei's heartwarming story of using his KSh 1.6 million SportPesa Bonus to transform his family's life, Kariuki has shared a similar tale.
Kariuki's account is a testament to the transformative power of such a windfall, and comes as yet another inspiring example of how lottery winnings can change lives for the better. Like Samoei, Kariuki's decision to use his winnings to better the lives of those closest to him is an admirable reflection of his character.
Source: Tuko Nairobi Businessman SportPesa Jackpot 2m