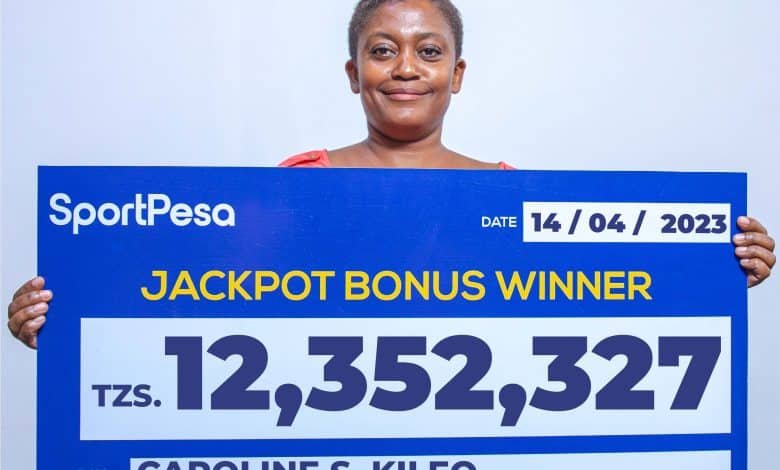 It is extremely uncommon to hear females forecast and win jackpots, but Caroline Kileo is an exception. She received TSh 12,352,327 ($5245) as Sportpesa's rightful middle jackpot bonus winner in the 13 matches Jackpot.
Since the contest's inception in 2023, only Asha Hemed Rajabu, a native of Thala, Dar-es-Salaam, was the first lady to win the Jackpot. She won $1745 in January 2023, making Jackline the second girl to do so. Caroline also happens to be a resident of Dar-es-Salaam.

Speaking after the cheque was reviewed and handed out, Caroline claims that she started using SportPesa a month ago after watching an advertisement on StarTimes TV.
Unajua mimi nilikuwa nimetulia zangu nyumbani sasa wakati nacheki TV, nakumbuka ilikuwa Star Times tangazo la SportPesa likapita mara ya kwanza. Wakati ule sikulitilia maanani, lakini nikakumbuka huwa naona washindi mbali mbali wa SportPesa wakipostiwa kwenye mitandaoni.

Kwa bahati nzuri tangazo lile lilirudia tena. Kwenye tangazo kule mwisho wanasema piga *150*87#. Sasa mimi nilikuwa na kisimu changu cha kitochi, siku hizi zimezoeleka kama viswaswadu nikajarbu kufuataisha kama walivyoandika, nikapata sms ikisema karibu sportPesa.

said Caroline
Meaning that when the announcement was initially made, she was simply sitting at home watching television. She initially couldn't believe what she was seeing. When the announcement was made again, though, she learned that she had won. Later, a confirmation message was sent to her feature phone, which she claims is now common amongst most people in the country.
I am a grain trader and I decided to play these jackpots to get capital because every time I see information about SportPesa, it is often related to the winners, especially these bonus, so I was interested in looking at the standards that the previous winners were applying.

Either the host team or the foreign team should win. I didn't use anything that you could say improved my understanding of how to play, even though many people refer to experience in this context.

I don't know anything about sports, but I made the decision to try and win the jackpot because I saw so many people winning and getting their names in the headlines.

Caroline added.
When she was asked how she knew the results, Caroline says she was calling SportPesa customer service and asking about the results of the teams she had played in the middle of the week.
Read Also: Betika Kenya &Gambler Engaged in Legal Dispute over $5000 Unpaid Winnings
Finally, Caroline urged Tanzanians to play on SportPesa as she initially did not know anything but had faith after seeing the announcement on StarTimes TV which persuaded her to learn and play with God by her side, as she clearly put it.
SportPesa Communications Unit head, Sabrina Msuya congratulated Caroline on the victory of the bonus in the middle of the week and encouraged her to continue to play the jackpot with the hope that her dream of emergence with the jackpot itself may be realized.
Subscribe to our channel on Telegram here for timely live updates on all happenings in the iGaming space in Africa. You may also join our group on Telegram here and grow your networks by interacting with all players in the iGaming sector in Africa