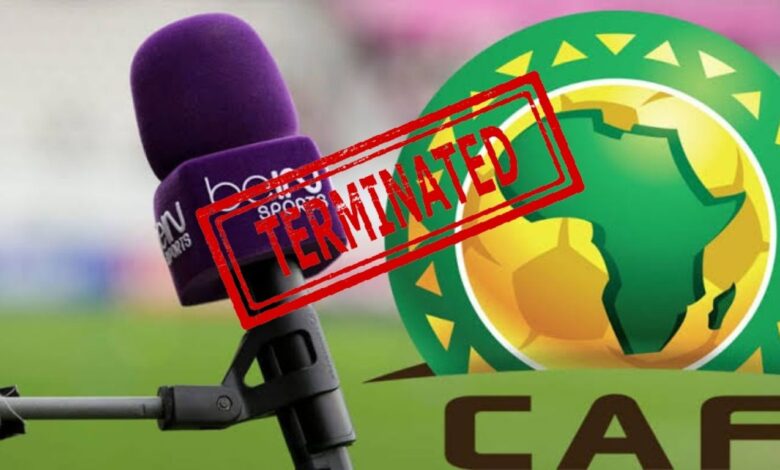 The Confederation of African Football (CAF) has abruptly ended its 12-year broadcasting contract with beIN Media Group, a major Qatari media company. bein sports CAF
Caf's attorneys informed beIN Media Group, which owns the beIN Sports broadcasting division, on September 1 that the 12-year contract, worth $415 million, was being canceled with immediate effect.

The agreement, which was inked in 2017, comprises 40 nations in the Middle East and North Africa (MENA) and Asia-Pacific (APAC) areas, as well as France and the USA. It is the federation's most lucrative commercial arrangement.
It includes rights to CAF's club and international soccer competitions, such as the Champions League and Africa Cup of Nations.
The partnership was supposed to last until 2028, but a protracted disagreement over payments has forced an early end to it. The BBC reports that CAF decided to end the agreement with five years yet to run due to an alleged contract breach and is planning to recover up to US$80 million it feels it is owed.
BeIN responded by acknowledging that there had been a "number of issues" that had impacted the relationship, including the postponing and rescheduling of games at the men's Africa Cup of Nations competition owing to COVID-19 and severe weather. BeIN claimed that these changes affected the rights' value and prompted a desire to renegotiate.
The broadcaster with its headquarters in Qatar warned that if an amicable solution could not be reached, it would be forced to file a lawsuit. This means that if CAF's own claim is unsuccessful, it might be required to make a payment in compensation.
Read Also: SSC Napoli Signs Sponsorship Deal with Rollbit
We are, of course, taking all necessary steps to robustly defend our legal position.

I must make clear to you that beIN does not accept this termination and will take all necessary legal steps to challenge and overturn it.

In addition, we have significant concerns that this major decision relating to CAF's most valuable commercial contract may have been taken without the necessary scrutiny and approvals required under CAF's internal regulations

Yousef Al-Obaidly wrote to both CAF and its executive committee members on September 2nd.
BeIN has expressed concerns about the termination process, asserting that it may have been conducted unlawfully without the required scrutiny and approvals outlined in CAF's internal regulations. This potential procedural irregularity could further fuel the legal battle.
This marks the second time in four years that CAF has unilaterally terminated a major contract, with the previous cancellation costing them a sizable settlement.
In 2019 saw the termination of the federation's US$1 billion television and marketing agreement with Lagardère Sports after multiple courts deemed the agreement, which was the most lucrative in CAF history monetarily, to be anti-competitive.
Due to the cancellation, several Africa Cup of Nations qualifiers' television broadcasts had to be shelved, and CAF was required to reimburse the agency with US$50 million in damages.
Four months before the Africa Cup of Nations, which will take place in January, the collapse of the beIN Sports agreement means that CAF now lacks a significant international broadcast partner. The last qualifying round will take place over the following ten days. bein sports CAF