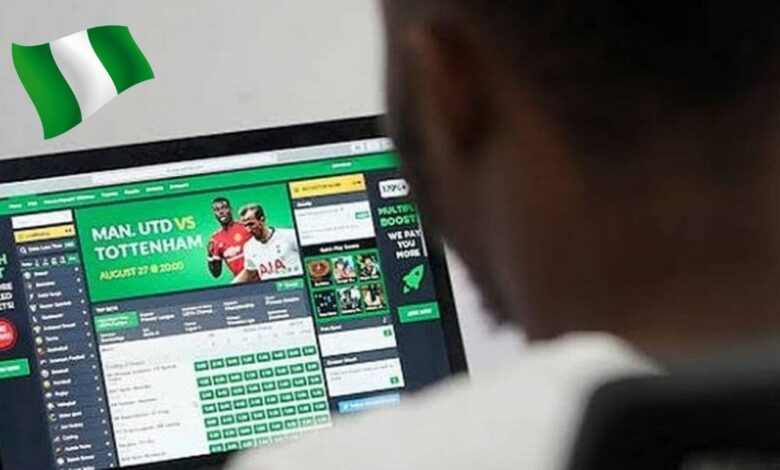 In Nigeria, gambling has long been a favored form of entertainment, attracting millions with a diverse array of games of chance and skill. However, recent years have witnessed a significant transformation in the country's gambling landscape, driven by the advent of mobile betting.
Mobile betting, referring to the use of smartphones and other mobile devices to access online gambling platforms, has revolutionized how Nigerians approach gambling. It offers convenience, accessibility, innovation, and diversity, reshaping the gambling experience for all.

Mobile Betting: A Booming Industry in Nigeria
The mobile betting industry is flourishing in Nigeria as more people embrace the digital trend. In 2020, Nigeria boasted over 140 million mobile internet users, constituting roughly 68% of the population. By 2025, this number is expected to surpass 187 million, highlighting the massive potential market for mobile betting operators. Additionally, Nigeria's passionate sports fan base, particularly football enthusiasts, contributes significantly to the industry's growth. According to surveys, approximately 30% of Nigerian adults engage in sports betting, with the majority placing bets daily or weekly. Notably, 79% of these respondents use their mobile phones to place bets, while only 18% opt for physical betting shops. These statistics underscore mobile betting as the preferred gambling method among Nigerians.
The Accessibility Factor: Betting at Your Fingertips
One of the driving forces behind the popularity of mobile betting in Nigeria is its unparalleled accessibility. Mobile betting grants users the freedom to wager at any moment and from any location, as long as they possess an internet connection and a compatible device. It eliminates the need for arduous trips to physical betting shops, characterized by long queues and inconveniences.Furthermore, mobile betting ensures greater privacy and security, as users can safeguard their personal and financial information from third parties and potential fraudsters. Beyond convenience, mobile betting provides users access to a vast array of gambling options and markets, empowering them to compare odds and offers from different online platforms. Moreover, it enables users to engage in live betting, allowing them to place bets on real-time events.
Also Read: SBC Summit Heading to Lisbon in 2024
Innovation in Mobile Betting Apps
The innovation present in mobile betting apps is another compelling factor contributing to their popularity in Nigeria. These applications, specifically designed for mobile devices like smartphones and tablets, offer a user-friendly interface, seamless navigation, swift loading speeds, and high-quality graphics.
Mobile betting apps also provide a plethora of features and functions that enhance the gambling experience, including bonuses, promotions, loyalty programs, customer support, diverse payment methods, social media integration, and responsible gambling tools. Notable mobile betting apps in Nigeria include Betway, Bet9ja, NairaBet, and 22Bet.
The Proliferation of Sports Betting
Sports betting reigns supreme in Nigeria's gambling landscape and plays a pivotal role in driving mobile betting's popularity. Betting entails placing bets on the results or events of various sports competitions, encompassing football, basketball, tennis, cricket, rugby, boxing, and more. This form of gambling resonates with Nigerians, as it combines their passion for sports with the chance to win money.
Sports betting delivers excitement, entertainment, and social interaction, making it particularly appealing. Furthermore, sports betting remains unpredictable due to various factors such as team performance, player injuries, weather conditions, and referee decisions, offering users the opportunity to apply their knowledge, skills, and strategies to make informed bets.
Challenges and Regulatory Framework
Despite its popularity and advantages, mobile betting in Nigeria faces challenges and risks that warrant attention. A primary challenge is the absence of a clear and comprehensive regulatory framework governing online gambling. While the Nigerian Lottery Commission oversees online gambling activities and issues licenses to operators, it lacks the capability and resources to oversee and ensure adherence effectively. Additionally, the commission's jurisdiction does not extend to foreign-based online gambling platforms operating in Nigeria without proper authorization. This regulatory gap opens the door for some online platforms to operate unethically or unlawfully, potentially offering unfair services.
Responsible Gambling in the Mobile Era
Addressing these challenges necessitates a commitment to responsible gambling practices. Responsible gambling entails adopting attitudes and behaviors that minimize the potential harms associated with gambling while maximizing its positive aspects. It rests on principles like moderation, balance, self-control, and informed choice. Promoting responsible gambling requires collaboration among various stakeholders, including regulators, operators, vendors, customers, and support services. Key strategies and measures for promoting and practicing responsible gambling in the mobile era encompass setting limits on time and money spent, gambling solely for entertainment rather than income, using expendable income, gambling when in a positive mood, taking regular breaks from gambling, seeking help or guidance when gambling becomes problematic, and utilizing responsible gambling tools and resources available on mobile betting apps and websites.
The Future of Mobile Betting in Nigeria
The future of mobile betting in Nigeria holds immense promise and is poised for further growth and evolution. As more individuals gain access to mobile devices and internet services, mobile betting is set to benefit from technological advancements and innovations that will elevate the quality and diversity of gambling products and services. Anticipated trends and opportunities that may shape mobile betting's future in Nigeria include the legalization and regulation of online casino gaming, the introduction and expansion of single-event sports betting, the integration and adoption of blockchain technology, the incorporation and utilization of artificial intelligence, and the emergence and popularity of new forms of gambling such as esports betting, virtual sports betting, social gaming, and fantasy sports.
Conclusion: Riding the Mobile Betting Wave
Mobile betting has ushered in a new era of gambling in Nigeria, characterized by unprecedented convenience, accessibility, and diversity. While the advantages are clear, including the convenience of gambling from virtually anywhere, some challenges demand attention. These challenges include regulatory gaps and the risk of problem gambling or gambling addiction among some mobile betting users. Responsible gambling is the key to ensuring that individuals can enjoy the benefits of mobile betting without suffering harm. As mobile betting continues to sweep across Nigeria, it is our collective responsibility to ride this wave responsibly, safeguarding the well-being of all participants.