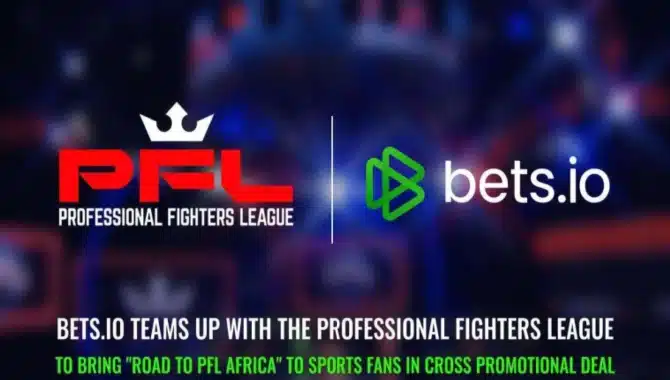 The Professional Fighters League (PFL), a top MMA organization, and major iGaming and sportsbook platform Bets.io today announced a strategic content collaboration agreement and their partnership for "Road to PFL Africa."
As part of their ground-breaking collaboration, Bets.io and the PFL will collaborate closely to produce entertaining and informative material for global MMA and betting enthusiasts, namely for the "Road to PFL Africa" documentary series.

As part of the agreement, Bets.io will also join the PFL as a reliable betting partner and offer fans access to unique, custom content that documents the league's journey toward the debut of PFL Africa.
This content will be shared on Bets.io's and the PFL's social media and digital channels. Bets.io will also have access to PFL fighters and PFL representatives.
In exchange, PFL will give Bets.io exposure at upcoming events held on the African continent and promote the business through its own platforms.
The PFL is excited to announce its groundbreaking strategic partnership with Bets.io. When it comes to online cryptocurrency gameplay, you need a winner's mindset and Bets.io has just that. I'm thrilled to be working with them."

Road to PFL Africa, through the lens of Bets.io, will give MMA fans around the globe an intimate look at the story behind PFL Africa. This partnership will help us engage with a wider audience and provide valuable insights as we progress towards the realization of PFL Africa.

Peter Murray, the CEO of PFL.
PFL said earlier this year that it would introduce PFL Africa, which would allow African fighters to compete on a worldwide stage.
Read Also: Confederation of Electronic Sports Africa established in Senegal
All of us at Bets.io are massive fans of Mixed Martial Arts. It's one of the fastest growing sports in the world and we're excited to be partnering with one of the dominant brands in the sport. The PFL embodies the same principles we stand by at Bets.io – dedication, strength and the belief that anything is possible.

Our platform is built for thrill seeking players who love to bet online, and we're excited to see what this partnership unlocks for PFL fans and Bets.io players both now and in the future.

Dmitrii Khasanov, Strategic Business Development Partner at Bets.io
Established in 2018, PFL has the support of various NBA, MLB, NHL, and MLS franchise owners in addition to prominent blue-chip investors such as SRJ, Ares, Knighthead, Luxor Capital, Waverley Capital, and Elysian Park Ventures.
PFL offers four live-fight franchises that are available all over the world: PFL League Season, PFL Challenger Series, PFL PPV SUPER FIGHTS, and PFL International Regional Leagues.
Bets.io is a quickly growing online gaming platform that offers betting and gaming options to cryptocurrency fans all around the world.
Bets.io, a recently established cryptocurrency betting platform, promises to increase the excitement of online gambling with a wide variety of betting choices across several sports and events as well as better-than-average odds.
Superior security and advanced financial privacy are the cornerstones of Bets.io's working ethics. The website is dedicated to giving users the best possible experience, guaranteeing total privacy, and rewarding users with a ton of promotions and prizes.